Back
The "Heart" of Every System: Climatuff® Compressor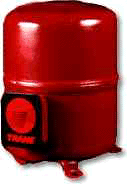 The compressor has to be pumping strong for your air conditioner or heat pump to keep your home comfortable. It's the single most important component in your air conditioner. A quality compressor helps ensure a more reliable, longer lasting and higher efficiency unit. It is designed and manufactured to match the requirements of the model it's used in. That's why we say it's the "heart" of the system.
More than 30 years of continuous refinements have gone into Trane's innovative compressor design. From its heavy epoxy-sealed motor coils and Trane-designed valve system, Climatuff® compressors are built to stand up to your comfort demands for years to come.
Back to top of this page

The Leading Edge: Spine Fin™ Coil

Along with the compressor, heat transfer is an important factor in achieving heating and cooling efficiencies. In every air conditioner or heat pump unit, there is an outdoor heat transfer component, commonly referred to as an outdoor coil. In summer, heat is removed from your home and transferred to the outside air by this outdoor coil. In winter, a heat pump captures heat in the outdoor air and uses it to warm your home. What the outdoor coil is made of and how well it is designed and manufactured determines how efficiently it does its job.
Trane's Spine Fin™ coil has been unbeatable for efficiency and reliability. Spine Fin™ is the most efficient single row outdoor coil that can be built. In fact, it's so reliable and durable that the Spine Fin™ coil enabled us to offer the industry's first manufacturer's 10-year limited warranty on outdoor heat transfer surfaces in our XL products.
What makes Spine Fin™ so efficient and dependable? Our innovative design and manufacturing along with expert engineering and several decades of experience, research, and testing.